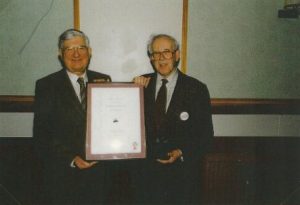 Two founder members, John Salmon on the left and Rodney Partridge, showing the Initiative Award for New Horizons at the Rowland Hill Awards in 1997.
IN THE BEGINNING……
In February 1993, at a meeting of the Bookham Community Association in which ways and means of increasing the number of room hirings at the Old Barn Hall was discussed, a question was raised from the floor about the possibility of forming a Stamp Club in Bookham. This was taken up by the Executive Chairman, Alan Zoers, who telephoned Rodney Partridge the next day about the possibility of such a venture.
Whilst there were already stamp clubs in both Leatherhead and Dorking (which have both now folded), Rodney Partridge decided to consult John Salmon who fortunately, had a list of members of Leatherhead Stamp Club, which included over a dozen members living in Bookham. By putting their heads together, a list of over 40 possible members was produced, but as the majority of these were already retired, it was thought that a new club might be more attractive if its meetings were held in the afternoon. In this respect it would then differ from other stamp clubs in the immediate area, and Bookham were probably the first to start afternoon meetings in the country.
It was decided to hold a Steering Committee Meeting at the house of Rodney Partridge in Mill Close at 2.15 pm on Thursday 4th March 1993. Those attending were John Salmon, Alan Zoers, Jack Watchous, Derek Pegg, Harold Hopkins and Norman Frost.
The outcome was the decision to hold an Inaugural Meeting in the Waterfield Room of the Barn Hall on Thursday 25th March 1993 at 2.15 pm., and some 50 letters of invitation were then sent to possible interested collectors.
On the 25th March, twenty people turned up at the Inaugural Meeting at the Old Barn Hall, when the formation of a stamp club to meet on a monthly basis during the daytime was discussed. This was agreed with a set or rules approved in outline and the appointment of Rodney Partridge as Chairman and Honorary Treasurer and John Salmon as Vice Chairman and Honorary Secretary.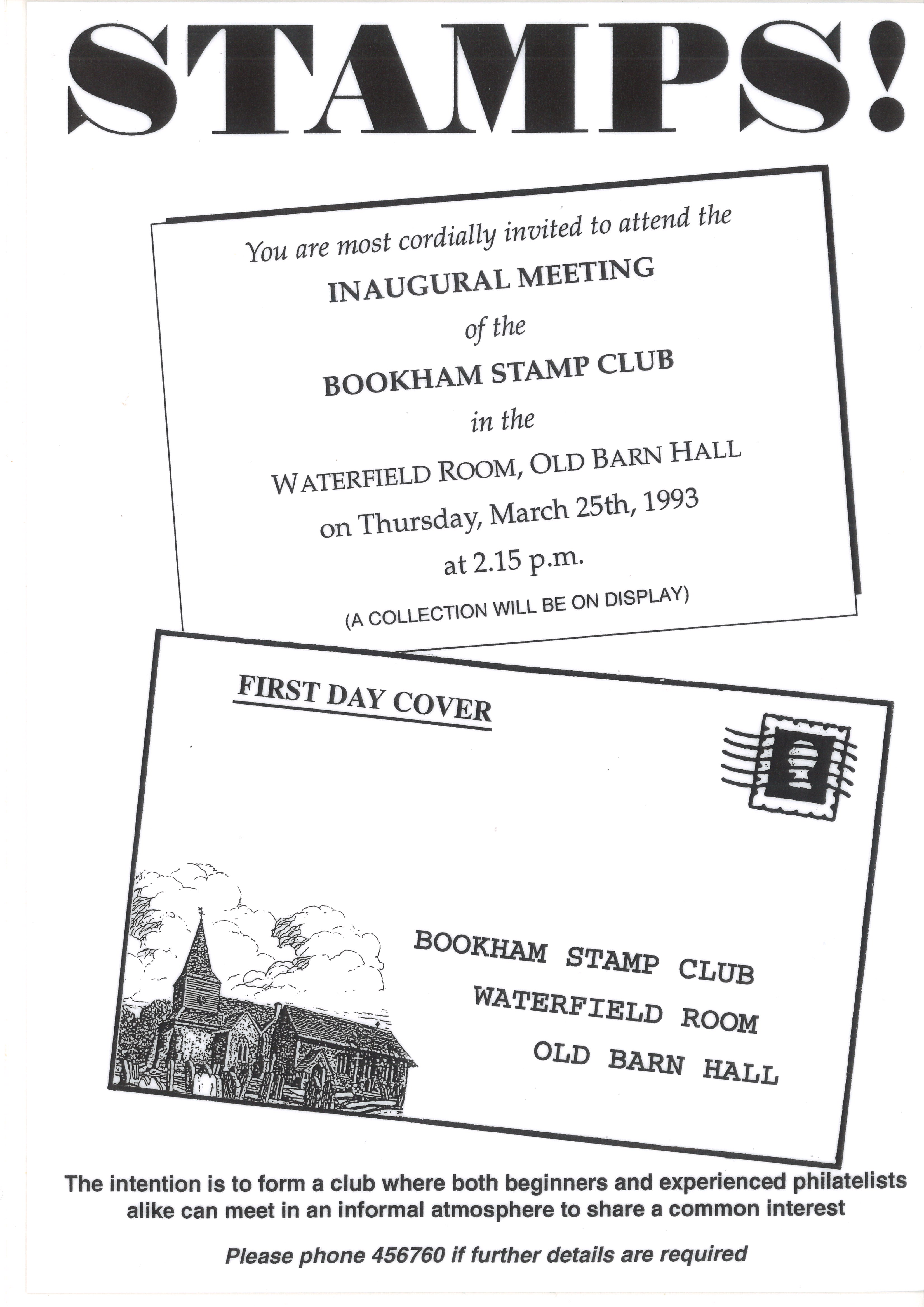 This met with general approval and it was agreed to set up a Committee and the others elected to serve on the Committee were:-
Mrs E. Ewer and Messrs N. Frost, D. Pegg and P. Sawyer.
Below is a copy of our first programme: