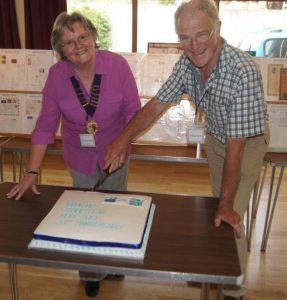 Our Chairman, Christine Earle FRPSL and our immediate past Chairman, Graham Mytton do the honours by cutting the cake for our members to enjoy at the July meeting.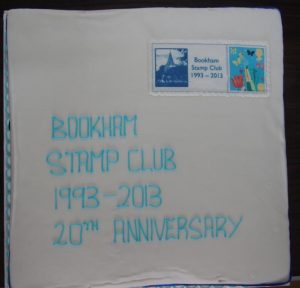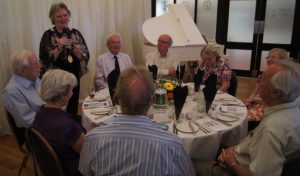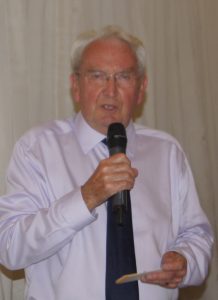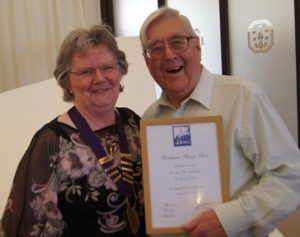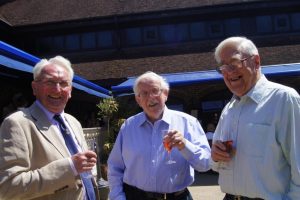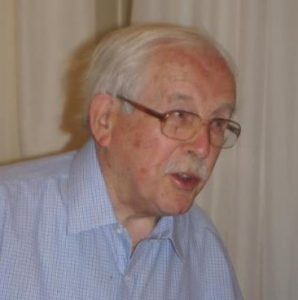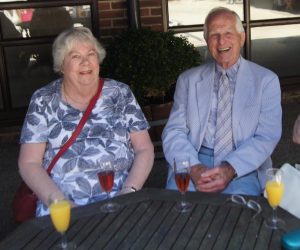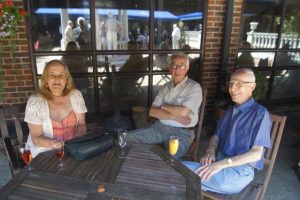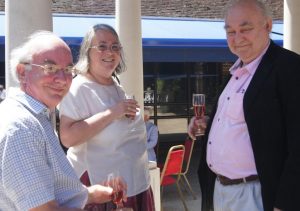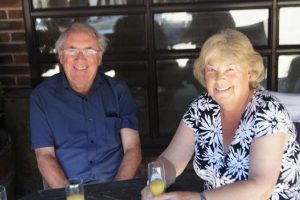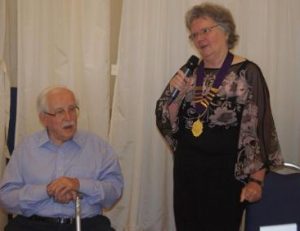 Our 20th anniversary was a great success, which was helped by the venue. Denbies wine estate proved to be a superb venue as we not only had our lunch in the Garden room, we also had the use of the adjoining outside Pavilion. The 90 members were welcomed with a glass of sparkling pink wine by the Chairman and were then able to enjoy a beautiful sunny day in the Pavilion before and after lunch.
The members enjoyed pretty decorated tables adorned with superb flowers and a bottle of red and white wine.
Our Chairman, Christine Earle (pictured above with one of the founder members, Rodney Partridge) gave a welcome speech and our immediate past Chairman, Graham Mytton said Grace.
We enjoyed the following three-course lunch:
Prawn Cocktail
Breast of Chicken with red pepper and ricotta and basil crushed new potatoes.
Baked pear with granny smiths mousse & pear crisps.
At the end of the meal, the Chairman gave a toast to the Queen and then we had our first speech from Graham Mytton who talked about the history of the Club as well as the present. Miller McGrath responded to Grahams speech, also remembering the past and how the Club has grown to what it is today. We also had a toast for our founder members – Rodney Partridge and Professor John Salmon. John sadly was unable to attend because of illness.
The Chairman presented David Carr with a framed certificate for becoming an honorary member at the last AGM.
One of our founder members, Rodney Partridge was able to attend which was extremely pleasing as he now lives in France with his daughter. Rodney gave an entertaining short speech, alluding to the humble beginnings with Professor Salmon.
Finally, our Chairman gave a speech summing everything up and wishing everyone a safe journey home.
A wonderful and successful afternoon – looking forward to our 25th anniversary!