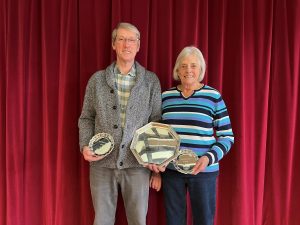 The Chairman's award for the Norman Frost Salver.
"I'm awarding the Norman Frost Salver in 2020, albeit virtually, as I can't in person to two people that have kept the members in order, with their organisational skills have kept all the members informed, especially during the pandemic. So, the award this year goes to our two membership secretaries, Fred Mitchell and Brenda Bailey."
The Salver will be suitably engraved and presented to Fred and Brenda once the meetings start again.