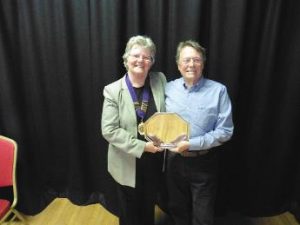 "Under the terms of the award I am nominating someone who has given valued service to this club. You will have heard his report as the Packet Secretary how the return on sales this year has increased from £3500 to £5300, making it the best return since the packet started. This wouldn't have happened without a lot of hard work and diligence, and we are very grateful for this effort. But strangely enough this is not the main reason I am nominating David for this prestigious award.
David has proved, over the years, to be a most compassionate and caring member of the Bookham Stamp Club, and I have witnessed on many occasions how he has gone out of his way to help some of our older and in many instances ailing members get as much as possible out of being a member of Club, and to continue to enjoy their hobby.
A typical example of David's thought and compassion for others was illustrated at the first Committee Meeting after the unexpected loss of our Trading Secretary, John Burden. We were debating how we could fill the huge gap left by his sudden demise when David valiantly declared that he would be willing to take on the role, as long as we could find a new Packet Secretary.
After some debate and going round and round in circles, as committees' tend to do, I came up with the suggestion that we suspend the Packet temporarily, and David take over running the Trading tables forthwith. This was met with some agreement from the Committee except, and this is my point, David! No way… under no circumstances would he agree to suspend the Packet, as he pointedly said, 'for many this is their lifeline and only contact with the Club and other members.'
It was then that I fully realised that despite his casual demeanour, David is a man of compassion and caring.
This is further borne out by the many occasions when he has heard of a member being ill or in distress and David has been one of the first to offer kindness and comfort, often going out of his way to pay them a visit or to try to help in some way.
I am proud to call him a friend and he is definitely one person I would like in my corner if I was ever in trouble.
However, He does tell some damn awful jokes!
David, on behalf of Bookham Stamp Club, I am delighted to present to you the coveted Norman Frost Salver Award, in recognition of your hard work as our Packet Secretary, but above all for your caring and compassion towards the Club and its membership.
The Chairman, Officers and the Society salute and thank you."
C.A. Earle FRPSL