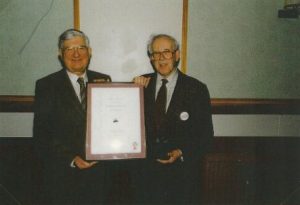 One of our main founder members, John Salmon has, sadly, died at the age of 95. John pictured above left with the other main founder member Rodney Partridge was cremated in Lancashire but a memorial service is being considered at St Nicholas Church in Great Bookham. 
Much of John's role in setting up the club is set out in the History section of the club's website and more is included in the lovely obituary of Rodney Partridge.
John was a lifelong collector of stamps but, as with many, this was heavily curtailed during his working life. Following retirement, he specialised in Iceland, putting together an entertaining display on its flora, fauna and geography and another on the postal history of the troops stationed there in WW2. Another major focus was Norway with another display on the Railway postal history of selected lines. He had many other strands of study underway leading to other, smaller displays and talks mostly on Scandinavian topics.
He was a member of the RPSL and enjoyed many of the meetings there and had been very proud of participating in a display or two. He shared his love of stamps with his two children who have both given displays and won awards.
As he needed more care and support he helpfully moved nearer his family in Lancashire. He participated for a while in the activities of the City of Preston Philatelic Society and attended a few local meetings of the North-West section of the RPSL. But even this travel became too much and he contented himself with some philatelic studies at home. In more recent years his failing eyesight removed any continuing involvement with philately even at home.
Throughout his life he greatly enjoyed teaching, sharing his knowledge and supporting others in their studies. He was always delighted with the success of Bookham Stamp Club and pleased with the updates he received of its continuing successes.

A true gentleman in every sense of the word.