David was born in Cardiff in 1943, and married Heli there in 1967. After a spell of living in South Africa, they settled in Fetcham, where David continued his profession as a Consulting Civil Engineer from offices in Sutton.
Whilst Civil Engineering was David's profession, and his favourite sport was cycling, (apart from supporting Welsh Rugby!) his passion was philately.
He was an active member of the Bookham Stamp Club, where he served for many years as Packet Secretary and latterly, Trading Secretary, buying bulk loads from auctions to ensure a steady flow of new material. His efforts helped guide the club to become the largest in Surrey.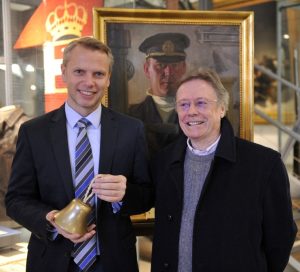 The photo shows David donating the dive bell of the Austrian U-boat SMU4 to the Director of the Army Museum in Vienna on 3rd December 2015.
David was also a member of the Austrian Philatelic Society and had an amazing collection relating to the Austrian Navy in WWI. His collection of postmarks on Franz Josef pictorial definitive stamps was extensive.
David was always keen to encourage and support other people, even when he himself was battling cancer. He was a truly inspirational man and will be greatly missed by all who knew him.